Departments
eBook now Available!
Exclusive - THE book on Traditional & Classic Siamese cats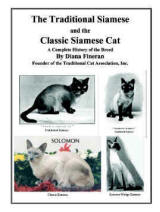 Written by the Founder of TCA, Inc.
---
---
Tullycrine
Affordable
Web Design
---
BREEDERS OF TRADITIONAL LONGHAIR SIAMESE (AKA: TRADITIONAL BALINESE), & CLASSIC LONGHAIR SIAMESE (AKA: CLASSIC BALINESE), & TRADITIONAL COLORPOINT LONGHAIR SIAMESE (AKA: TRADITIONAL COLORPOINT BALINESE), & CLASSIC COLORPOINT LONGHAIR SIAMESE (AKA: CLASSIC COLORPOINT BALINESE)
More Traditional and Classic Breeders
BLUE BONFIRE
Monika Dietz
bonfire51@yahoo.de
Germany
BONSAI TREE CATTERY
Rose Richmond
5466 Corunna Rd.
Flint, MI 48532
810-308-1153
Richmond.bonsaicat2017@gmail.com
CALVIN THOO
Kuala Lumpur
Malaysia
cthoo@rocketmail.com
ELEGANT ILLUSIONS (Website Link )
Aurel Mucha
Factoryville, PA 18419
570-599-1405
KATHY'S COUNTRY SIAMESE (Link to Website)
Kathy Brothers
RD#1 Box 197
Dayton, PA 16222
814-257-9825
kathysbrothers@yahoo.com
LNC
Kristina M. Thompson
605 Stoney Burn Ln
Myrtle Beach SC 29579
1-843-446-0414
MEEZERPAWS
Deborah Humphrey
76 N State St.
Concord, NH 03301
603-438-2409
debbie4692002@yahoo.com
NEWFOUND
Constance Carrie
St. John's, Newfoundland A1G 1M3
709-771-5648
newfoundcattery@gmail.com
BREEDS RAISED: Traditional Siamese, Classic Siamese, Traditional Colorpoint Siamese, Classic Colorpoint Siamese,Traditional Longhair Siamese, Classic Longhair Siamese, Traditional Thai, Classic Thai. BREED COLORS and PATTERNS: Seal, Chocolate, Blue, Lilac, Red, Pointed and Tortie.
PEACHY KEEN
Kearsten McColl
Petrolia, ON N0N 1R0
416-909-0405
peachykeensiamese@gmail.com
SIX CLAWS
Benjamin Smith
3530 State Route 681 North
Albany OH 45710
740-590-4273
bfssmith11@gmail.com